April was another crazy month for me- full of dog sitting & vacation! But I had a great collection of sidekicks to help me get through the month! I also cut off about 4 inches of hair this month so I had to discover new products to help me style my new do. Living out of a make-up bag, you really do depend on only what you brought with you and most of those products have made it into my list this month! So lets get right into my sidekicks!
Hair:
With my short hair I have been using more product to help get the look I am looking for. I have been loving this Root Shoot Mousse from EIMI to help get extra volume around my crown and sides of my head. Not only do I get great volume, but this mousse smells great. I use it only after a shower and I find that I get the best results and most volume when I use the mousse and a blow dryer.
I have also been loving this Wax Blast from Redken. I use this on the days I don't shower to give my hair a more textured and messy look. I love this because it helps add grip to my hair, makes pinning back my short hair last longer, but it also works as a hair spray. I have learned though, that a little goes a long way & you have to spray from a arm lengths back or it will just feel like grease.
I have also been in love with my straighter again! I love when I get this short haircut but it does tend to bring out my cowlick and my hair when not blow dried it gets flippy and I don't like it. My straighter is a Revlon basic 1″ straighter. I have had it for years and it still works great.
Make-Up: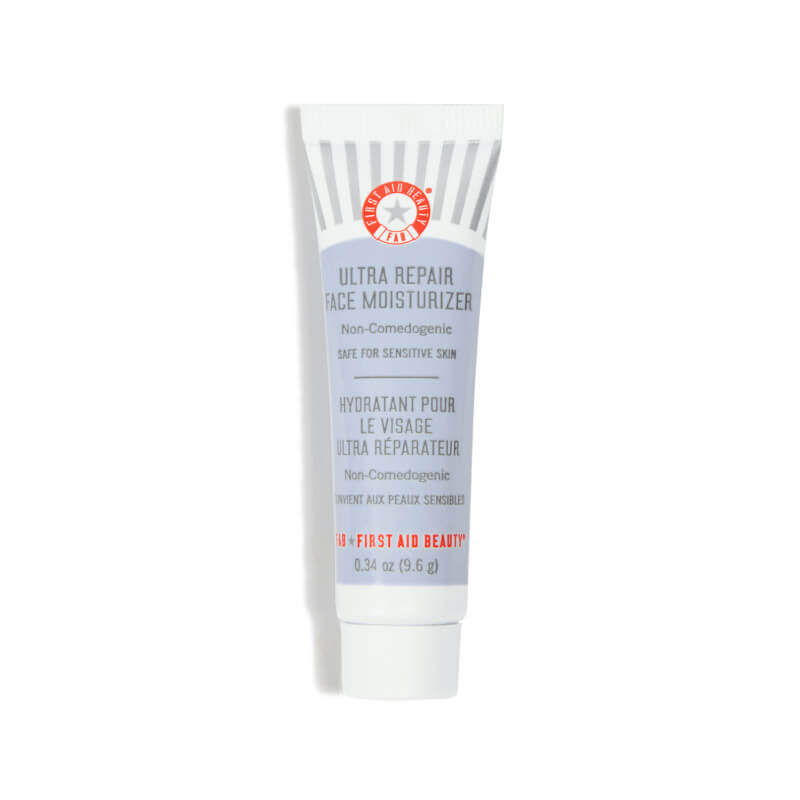 First Aid Beauty-Ultra Repair Face Moisturizer has been my go to moisturizer while living out of a make-up bag. I get the perfect amount of hydration without getting oily. Its also lightweight enough to wear it alone but doesn't clog my pores. A little goes a long way with this too which is nice because then it lasts longer. I also have noticed I don't have to apply this every day.
I might have to look into purchasing this once I finish my little sample guy!
LIPS: I have also loved getting to play around with different lipsticks not that we have spring in full swing. More pinks and nudes are on my radar. Lately I have also been loving a red look too! Here are some of my favorite lip products. I am definitely a fan of the matte dry lips. Ones that last all day with out moving an inch!
Left to Right: Too Faced Melted Lipstick- Chihuahua// Tarteist Lip Paint- Namaste// Tarte LipSurgence- Sweet// LOC Lip Crayon- Birthday Suit// Buxom Wildly Whipped Matte Lip Color- Centerfold
Skin Care:
I have been obsessed with my new Dr. Brandt Microdermabrasion Age Defying Exfoliator I can really feel it getting into my pores and cleaning out the dirt and make up clogging my pores. I also like how gentle it is on my skin yet I can feel it cleaning. I got this in my FabFitFun box and it's retail value is $73… which means I need to make this guy last cause I don't have that kind of money for an exfoliator.
I have also been loving the sample of Clean and Clear Deep Action 60-second Shower Mask that I got from a different beauty subscription box. This is extremely similar to the Dr. Brandt but a little more intense and much more affordable. I use this 2 times a week in the shower. And I use the Dr. Brandt once a week usually on my bath/spa night. Between the two of these I have noticed fewer break outs, softer skin, smaller & cleaner pores and overall great looking skin.
Nails: I have been addicted to this Essie nail polish called Peach Side Babe- I have been wearing it since I got it a month ago. This shade is perfect for spring and summer and I can't get enough of it! I may end up wearing it all summer long!
I have also been loving the Essie Gel top coat. I know the nail polish isn't gel but with this top coat my nails last almost a full week before they start to chip. Way longer than just basic top coat!
I have been loving trying new products this month. What have been your sidekicks this past month? Have you tried anything on my list? Any recommendations for next month? I'd love to hear from you!