I can't believe January has already come and gone! What a wild month. I have several favorites this month, so without further ado, lets get to my sidekicks for the month of January!
I was out of town for a weekend, as well as away dog sitting for a week so I was living off just what I packed with me. That makes it hard because if you end up not liking the shade of eyeliner or the mascara you brought is dried out. Living out of a makeup bag really makes your grateful to be back home 🙂
Face: First thing is my Norwex cloths. Not only does it eliminate having to bring make-up remover & body wash, but I only need one cloth for the week(end). I brought along both my body & face cloths. Norwex is known for having silver infused in their products which works as a natural anti-bacteria agent. Once you ring out extra water and hang to try, bacteria is trapped inside the cloth & gets released when you boil the cloths. Waterproof mascara is not match for the face cloth- it comes off with ease. I also love that the silver is a natural exfoliant and it leaves my skin smooth & soft.
Noxema has also been a life saver. Even though I don't have to use a face wash when I use my Norwex cloth, I still like to get a deep clean and for that I use the Noxema Deep Cleansing Cream. I feel like not only do I get a really deep clean, but I can see that my pores are cleaned out, smaller and my face is softer too. I only use this every other day because more than that dries out my face too much and longer my face gets too oily. (Super annoying!) But when I am staying in a hotel or in a house with a pet(s) I like to use this to help get a deep clean.
Hair Care: I have also been trying out a new shampoo and conditioner. With my skin allergies this is always a hard thing for me to switch around, but I still haven't found one that doesn't irritate my skin. So far this one has been one of the better sets I have tried- it's the Acure Organics Volume Shampoo and Conditioner. I can't say that I have noticed much volume (granted I also don't really style my hair & I let it air dry) but I have noticed that my hair has had more moisture and the mint smell is yummy! I love that all the Acure products are full organic and I haven't had a problem with them irritating my skin. I do like this one better than the clarifying one that I tried a few months back.
Although I don't style my hair much, hairspray is about the only product I use regularly
(other than shampoo and conditioner). I have played around with a few but one I really like is Sebastian Professional hair spray. I like it because it has a strong hold without the crunchy hair. When I need to hold my hair into place this is my go to hairspray.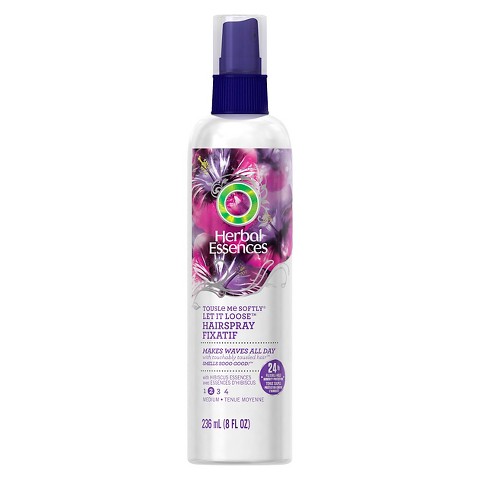 If I need a lighter hold, a messy pony for example, I will use the Herbal Essences Tousle Me Softly hairspray. This is just a basic spray bottle so I get a light hold, again without the crunch but I can play around with it throughout the day. This one also has a great smell to it.
Eyes: I am still loving my Rimmel London: Scandal Eyes Mascara that I talked about in December. I get unbelievable volume, curl and thickness from this after just one coat. I hate having to layer coat after coat & this mascara takes away having to do that. I can get all day lashes that are on point and I have been asked if they are fake before. When I get lashes like this it will be a sad day when my tube is gone & it will be time to try a new mascara- but I am going to make the most of it while I have some left!
I talked about the Aurora Eyeliner that I got in my December Ipsy bag, and I loved it at first, but it quickly went from Jet Black to not cute gray. I loved the fine felt tip of this pen and didn't mind wearing a gray liner but I wanted one with more pigment. I went and ordered a Aurora Eyeliner Pen in Gray & it has been working great. I get a perfect line in one swoop. I still sometimes use the black but I have been loving the gray.
Along with trying new makeup I also tried Flat Tummy Tea this past month. My main reason for trying this was honestly to de-bloat. I was sick earlier this month and ever since I haven't felt good. Since drinking this tea I have felt better, more energized and in the process I have actually lost a few pounds. I did miss a few morning and night cups so I am sticking to the plan until the tea is gone. I will do a full review of FTT later this month!
What were your sidekicks throughout January? Did you discover any new products? Did Flat Tummy Tea work for you? I'd love to hear from you!